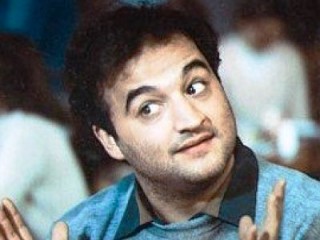 Karen: John Belushi meant a lot to me and my friends when we were teenagers. He was the rebel, the weirdo, the wild man, the misfit who rose to the top. He was far from what people considered a Hollywood star in looks but was successful despite (maybe even because of) that. He was inspiring to many of us out there who didn't necessarily fit in. Above all, he was a gifted comedian. We might remember him best for his physical slapstick, the way he could throw his pudgy body around, or raise his eyebrows; but he also had expert timing and could deliver a line like nobody's business.

Karen: But it feels like he is being slowly forgotten. In his heyday, he was one of the brightest stars to come out of the original Saturday Night Live. He went on to tremendous success in

Animal House

and

The Blues Brothers

(less so with

1941

,

Neighbors

and a few other film appearances

). But Belushi left this world at the young age of 33 -

33

! - back in 1982. His portfolio is thus rather slim.

Karen: I can easily recall the moment when I heard he had died. I felt stunned. His death was the first time I lost a performer that I had a strong interest in. I phoned friends. We were all in disbelief. How could this unstoppable maniac be dead? But, as is so often the case, Belushi was on a path of self-destruction. It's incredibly sad, especially as I look back now, nearly 30 years later, realizing how young he was and how much more he could have done.

Karen: But as long as we have recording devices, his work will live on. Some of his funniest stuff was during his days on SNL. The "cheeburga" and Samurai sketches instantly come to mind. He also made some great faux commercials.



Karen: Or how about his turn as Joe Cocker?



Karen: I'd love to show some clips from

Animal House

and

Blues Brothers

, but we're trying to keep this site PG rated! But if you haven't seen these films in a few years, throw them in the player and sit back and marvel at just how hysterical Belushi was. I miss John Belushi.