Karen: I was out doing some Christmas shopping and I went into the Hallmark store and took some time to look over the ornaments. Maybe I am becoming a traditionalist, because I felt sort of annoyed with all of the Star Trek, comics, sports, movie and other ornaments that had nothing whatsoever to do with the holiday! On one hand, I understand wanting to have collectibles of favorite characters, shows, etc., up on the tree. I certainly have my fair share of figurines and other memorabilia crowding me out of my home. And it's not like I don't have some genre-related ornaments too. When Hallmark first started making Star Trek ships, I bought them each year. But then they started putting out scenes from Trek episodes, and that's when the disconnect between Christmas and the ornaments really started to happen for me. I remember seeing poor
Capt. Pike, scarred
and paralyzed in his futuristic wheelchair, and I thought, "Well that's a cheery Christmas ornament!" This year, it is the Gorn about to stab Capt. Kirk. It would make a great diorama, but as an ornament? I don't know, doesn't say 'peace on Earth, goodwill towards men' to me.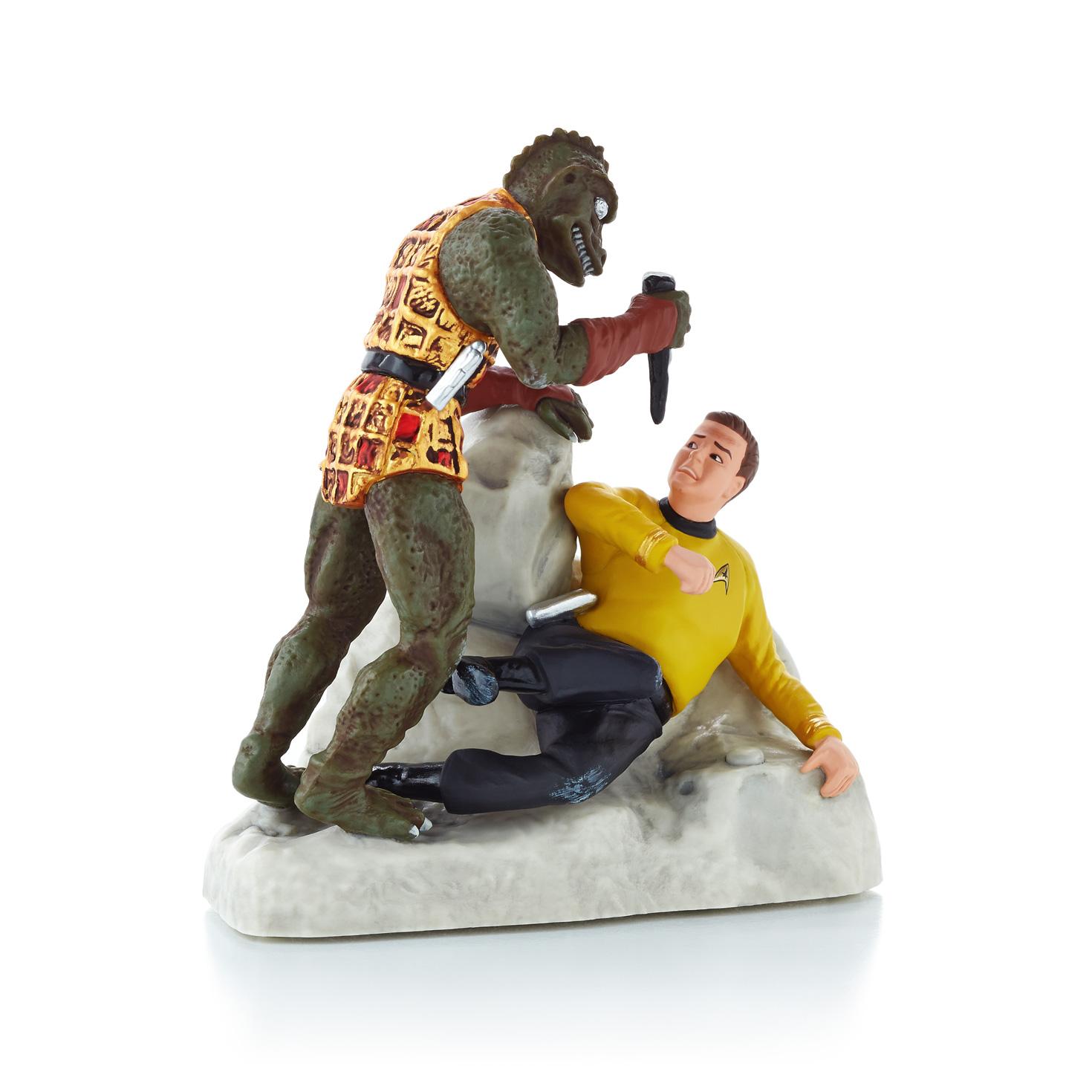 Karen: There are a ton of Disney ornaments. and some actually feature characters in Christmas scenes, but some make little sense, like the big Jolly Roger from Pirates of the Caribbean. Yes, nothing says Noel like the Skull and Crossbones.
Karen: But perhaps the ornament that truly captured the spirit of the season was Heath Ledger's Joker. Really? Why not just hang a picture of Charles Manson from one of the branches?
Karen: I did wind up buying a new ornament: It was Linus from the Charlie Brown Christmas special, with the little tree next to him. It has a button you can push and hear Linus' speech about the true meaning of Christmas. Yes, it's a licensed character from a comic strip, but at least it is connected to the holiday!
Karen: I know most of us here are collectors, to one degree or another. But I'm just wondering if anyone else out there ever feels like sometimes the licensing just goes too far.