This post was originally published on September 4 2009
Doug: Hey, it's our inaugural look at the good, the bad, and the ugly of superhero suits. Karen's been wanting to do this, but since she's out of town on vacation, I'll get it started. Most of these folks, bulging in all the right places, look good in their longjohns. But, what about the longjohns themselves? Hmmm... not always a good situation, to say the least.
Doug: We kick it off with the leader of one of our favorite groups, the Legion of Super-Heroes -- Cosmic Boy! What do you look for in a leader? Someone who can play diplomat, someone who's tough? How about a guy who can delegate tasks, or who isn't afraid to admit when he's wrong? A fellow who is the first into battle, and the last to leave, making sure that all of his charges have made it out safely? I'd like a man who can handle the simple jobs, like inventory of resources, but also make the really difficult decisions. And it shouldn't matter that he actually looks good in pink...
Doug: It's interesting that when the creators of Adventure Comics #247 (April 1958, whether writer Otto Binder, cover artist Curt Swan, or interior artist Al Plastino) sat down to dream up the Legion of Super-Heroes that would torment our young hero Superboy, they chose some pretty odd color combinations for these three new antagonists. Saturn Girl originally wore a yellow top accented with black over a green skirt, Lightning Boy (-Lad by their next appearance, in Adventure Comics #267) wore a red shirt with yellow sleeves over green trousers, and then there was Cosmic Boy -- a pink top with a sort-of black vest around it, over lavender trousers. By that second appearance, Saturn Girl was dressed in her familiar red/white pantsuit and Lightning Lad was in his blue/black/auburn outfit. But ol' Cos -- he got to stay in the pink and black.
Karen: Those original costumes the trinity wore were just hideous. I don't know who chose the color schemes but they should have been shot. Fortunately Lightning Lad soon got a much better costume (and an even better one when Cockrum began drawing the book), and Saturn Girl had at least an acceptable outfit, color-wise. But Cosmic Boy really got screwed over. The whole outfit is just, well, dorky.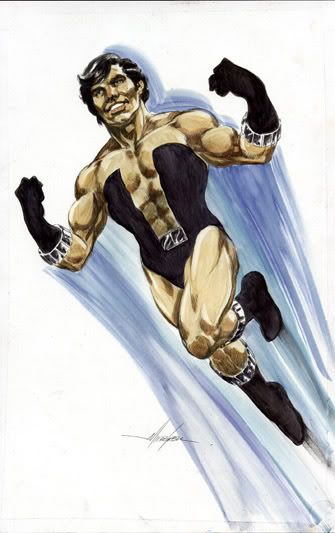 Doug: The next major costume change for Mr. Rokk Krinn didn't occur until 1974 as a continuation of the major renovations of then-new Legion artist Dave Cockrum. Gone would be the pink, as well as most of the rest of his clothes!!
Karen: We can blame artist Mike Grell for this one. He mentions in an article in

Back Issue

33 (April 2009) that Cockrum had revised so many costumes, that he felt that Cosmic Boy looked out of place in his old one. He wanted to keep him recognizable so he kept the black part of the costume, and replaced the rest with flesh - not realizing that he had essentially given Cos a bustier!
I always thought he looked like a male stripper in this outfit!
Doug: Keith Giffen, along with author Paul Levitz, were the next to take a crack at redesigning the look of Cosmic Boy. After the Crisis, DC wanted to revamp several key titles, giving us Frank Miller's Batman: Year One, John Byrne's Man of Steel, and George Perez's take on Wonder Woman in a series renumbered to a new first issue. One of the major players in Legends, the mini-series that would re-launch characters not in the above books, was Cosmic Boy. In fact, he was not only one of the supporting stars there, but he was featured concurrently in his own mini-series, titled simply Cosmic Boy. So, what did Levitz, Giffen, and cover artist (and then-Legion artist) Steve Lightle do? Well, of course -- they brought back the pink!!
Karen: Maybe they were all fans of Good and Plentys??
Doug: Lordy, I hate Good and Plenty!! But that is funny -- the picture to the left is exactly those colors!
Doug: Finally, finally, Rokk got a costume that didn't look so, so... well, whatever. Anyway, umpteenth re-boot artist Barry Kitson put Cos in a nice midnight blue and black outfit, still paying homage to the circles-on-the-chest motif that the character had worn for nearly 50 years. It was a nice change, much more believable and attractive than anything Mr. Krinn had previously worn.
Karen: Although I didn't enjoy this umpteenth revision of the Legion, Cos' costume did look nice. Hard to go wrong with blue and black.
Doug: I'll admit to never having seen Smallville (I was told early on that this was a mistake -- that it is really quite a good program). So I can't say much here other than Ryan Kennedy played Cos alongside Saturn Girl and Lightning Lad in an episode that aired in January 2009. This is certainly the most toned-down outfit in our portfolio of garish costumes!
Doug: So, what's the verdict on Cosmic Boy's sense of fashion? I vote for "Fashion Disaster".
Karen: I have to agree with you on this - I wouldn't say his costumes were dreadful, but they
weren't good either!