Doug: I was looking ahead in the queue and noticed nary a thing scheduled for today. Can't have that... So today why don't we have a little potpourri, a bit of a smorgasbord if you will, of conversation topics?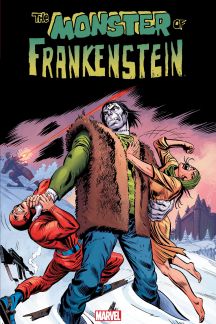 It's Open Mic today, so whatever you've been wondering, worrying, or pontificating about, bring it before the throngs of BAB readers, won't you? I'll start --
I've been back into the
Monster of Frankenstein
trade that reprints that character's Bronze Age appearances. I'd gotten about halfway through it last year when the Halloween season ended. It was shelved until this year and I have to say it was worth the wait. When I left off I had just gotten into the B&W reprints from Marvel's
Monsters Unleashed
mag. Wow. I've said it several times before and will again -- I most regret, in all the Bronze Age offerings, missing out on the Marvel magazines. The art by Val Mayerik is phenomenal. He was very Wrightson-like in his detail, and the format really suited his style. Doug Moench was the author of those tales and successfully created the mood necessary for stories of that ilk. I've just gotten back into the color section, with a reprint of
Giant-Size Werewolf by Night
#2.
Don Perlin and Vinnie Colletta were the art team, and while it was a jarring difference from the previous several stories, it wasn't horrible. The trade concludes with a couple of
Marvel Team-Up
s, so that should be fun.
I recently recorded and watched
Logan's Run
. It had been many years since I'd seen the entire picture. I had forgotten how quaint the special effects were, and the morality lesson in the dialogue toward the end. Maybe you've forgotten all that, too. But I know, if you were a red-blooded boy when it first ran back in the mid-70s, the one thing you did not forget was Jessica-6: Jenny Agutter. It's tough to believe that it's been 40 years since
Logan's Run
was in the theaters. Ms. Agutter is forever frozen for us as a 30-year old "runner" (she was actually 24 in 1976). Thank you, celluloid.
Lastly, I've been digging the Billy Joel channel that's been playing again on Sirius-XM channel 18. As you may recall, my wife and I saw
Joel at Wrigley Field
back in August. I'm a sucker for covers, and there are a few that play in rotation on that channel. I also enjoy the narrative portions where Joel sits at the piano and discusses his homages to certain songs from the past in his own hits. Speaking of covers, one of the albums that's been in my own personal rotation over the past few weeks is The Smithereens
Covers
. There are 23 cuts from a plethora of artists -- all times, all genres. It's a lot of fun. The Billy Joel channel also features a bunch of live Joel, and that has also brought me several times back to the Deluxe Edition of The Who:
Who's Next.
There are 29 tracks on the album, about half of which are live versions of well known Who hits. Money.
OK -- I've been varied. Your turn. What's on your mind?